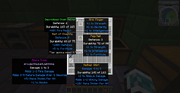 You may find items in a dungeon that have special names such as in the picture to the right.
There are many magical properties in Hack/Mine. Each property has both a suffix and a prefix tied to it, though only one is selected when applying it to an item.
Magical Items
Edit
Magical items are the most common loot to drop in Hack/Mine, their names are displayed in green. The game picks one or two magical properties, then applies them to the given item, along with their corresponding name components. Magical properties may be bonuses to stats, resistances, damage, and even curses (displayed in red)
You can also enchant any bow in the normal manner to get an Infinity I enchantment, but be careful what bows you do this on, because if you dont get infinity on your highest damage bow, it may be a disappoinmemt.
Rare and Epic Items
Edit
End-game epics are probably the strongest items that will drop, especially the dragon omni-gear. For information on omni-gear, scroll down and check the multi-stat enhancement part of the page.
All Prefixes
All Suffixes

Apocalypse
Armageddon
Basilisk
Beast
Blood
Bone
Brimstone
Brine
Care-a-Lot
Chaos
Corpse
Crazy
Death
Demon
Dire
Doom
Dread
Dream
Dragon
Dusk
Eagle
Earth
Eternal
Fel
Fey
Fiend
Flame
Gale
Ghost
Gloom
Goblin
Grim
Havoc
Imba
Immortal
Imp
Judgement
Lich
Maternity
Moon
Nether
Pikachu-Skin
Raven
Serpent
Soul
Spirit
Storm
Sun
Troll
Unfunny
Wyvern

Head

Aegis
Brow
Circlet
Cowl
Crest
Gaze
Hat
Hood
Kabuto
Mask
Sombrero
Stare
Veil
Visage
Visor


Chest

Aegis
Bulwark
Carapace
Cloak
Coat
Cuirass
Faulds
Garbs
Harness
Hauberk
Husk
Hide
Tutu
Armor
Mail
Mantle
Plate
Shroud
Splint
Ward


Legs

Bindings
Chausses
Cuisse
Girdle
Legguards
Leggings
Poleyns
Splints


Feet

Crushers
Greaves
Kicks
Sabatons
Slippers
Spurs
Stalkers
Stompers
Treads
Zapados

Swords

Bite
Blade
Edge
Fang
Impaler
Nail
Sever
Skewer
Slash
Slayer
Slicer
Sting
Thirst

Axes

Cleaver
Crescent
Fury
Mangler
Reaver
Rend
Slayer
Slicer
Song
Splitter
Sunder
Whirl
Flareon


Maces

Bane
Blow
Bludgeon
Brand
Breaker
Crack
Crusher
Grinder
Knell
Ram
Root
Smasher
Spank
Star
Potato

Bows

Fletch
Flight
Fury
Harp
Horn
Kiter
Pierce
Scratch
Song
Sting
Wing

Wands

Baton
Binder
Brains
Branch
Call
Chant
Crazy Brains
Cry
Fable
Gnarl
Song
Spank
Speak
Spell
Stick
Tale
Trick
Weave

Rings

Band
Bind
Circle
Coil
Finger
Gem
Gyre
Loop
Seal
Signet
Stone
Touch
Whorl
Unique Items
Edit
Unique items are the rarest type of drop, their names having a golden hue, and are each customly created by the developers. Some Uniques feature their own texture (the "Brony Maker" being a prime example), and most have a hue unassociated with any elemental properties attached to it. Unique items are substantially better than any magical item of the same level. Some have especially odd properties, aiming to introduce an interesting mechanic for the user to experiment with. Uniques are usually only good really early in the game, as you get really good gear later on. Uniques become only collection items at the end-game with a few exceptions which are Blue Raspberry Ring Pop, Wirt's Other Leg, Bastion, Roflstompers, Little Bow Peep and The Alternative Minimum Axe.
All Unique Items

Name

Worn
Properties
Flavor Text

Ash'rym

Head

+325% Defense

+

23123124

+4 Wisdom

N/A
El Zilcho
Mace

+3 Damage

+24% Knockback Adds 1-2 Fire Damage Adds 1-2 Ice Damage

I'm afraid you're boned.

Beauregard

Bow

+100% damage

+75% durability

N/A
Belt of Chasity
Pants

+5 Fortitude

+100% defence

Yer gonna need it.
Hurial
Ring

+3 Strength

+3 Dexterity

N/A
Roflstompers
Boots
+25% Walk/Run speed
ZOMG
Triple Axe
Axe

+50% damage +25% knockback

"That's 50% more axe!"
Lovesocks
Boots

+5% Walk/Run speed

+40% Fire Resistance

Very sexy.
Jock Strap
Pants

+400% Defense

+300% Durability

+4 Fortitude

You still aren't safe from the Roflcondas...

Li'l Blue
Wand

Adds 1-8 lightning damage

+5 Intelligence

+2 Wisdom

N/A
Castraticus Bronicus
Sword

+5 Strength

+5 Intelligence

Yes, I'm the kind of pony every pony should know...
The Rock
Mace

+3 damage

+24% knockback

Adds 1-2 fire damage

Adds 1-2 ice damage

The Rock's gonna take your monkey ass down to the corner of Know Your Role Boulevard and Jabroni Drive and check you into the Smackdown hotel!
Fence Post
Sword

+75% Attack Speed

+130% Durability

Cause it's aerodynamic and all. Well, if you hold it the right way...
Pikahide
Chestplate
+5% Run/Walk speed

It's more gruesome than you think it is.

Turtleplate

Chestplate

Helm

-5% Run/Walk speed

+250% Defense

N/A
Spinny Hat
Head
+400% Defense
Wheeeee!!!
The Brony Maker
Axe
Adds 4-6 Holy Damage
Rusty and bent. There are some notches carved in the side.
Zhakrum
Bow

Adds 1-6 Lightning Damage

+20% Knockback

+25% Attack Speed

+3 Dexterity

N/A
Big Red
Wand

Add 4-6 Fire Damage

+2 Intelligence

+5 Wisdom

N/A
Stone of Gordon
Ring
+5 Fortitude
What? The man was fortuitous.
The Debugonator
Mace
N/A
Uh, this item is the result of an error. Report this on the forums! Also, make sure you're not playing a world from a different version of Hack/Mine.
Disco Stick
Wand

Adds 4-7 Unholy Damage

-4 Intellegence

And you just assume that all these items are sanitized.
Blue Raspberry Ring Pop
Ring

+3 Wisdom

+40% Lightning Resist

N/A
Daimond Leggings
Pants

-50% Defense

-25% Durability

*Sigh*... they just aren't the same.
The Axe of Ridiculous Lore
Axe

+50% Damage

+25% Knockback

There seems to be something inscribed on the hilt... 'In the beginning times, at the second gathering of the Ancients, a pact was formed for the passing of Nar'shul to the Dwarves. The mountain was quiet with a begrudging peace, save for the pitter-patter of a tiny imp, with the peculiar name, "Shmorgal." The ceremony began; the Dwarf-prince Marigol proceeded towards the throne of Ferolmir, king of the Elves, his eyes fixed upon the divine Axe. He knelt before the king, and boomed, "Ferolmir! Too long have we plotted against one another. The once holy land of Nar'shul now churns with the blood of our fathers... my father... no longer is it the sea of amber I remember from my youth. Like a virgin bride she stood before us, and like a young calf we slaughtered her. The time has come to put aside our differences, Ferolmir! Let your stubbornness wane to the thoughts of your children, and our children, dancing in the fields of gold, with their hands clutched tightly together, singing with their bright-eyed, prissy little smiles, and-" "ENOUGH!!!" cried the Lord of the Elves. "Marigol, it is with great shame that I hold this axe, once a symbol of our combined spirits, and now one of your father's grim fate. I present it to you now, son of Argoth, as a token of our people's kinship. It is rightfully yours-- rule your kingdom with the unbreakable will of Arg-" "YOINK!!" Shmorgle receded into the valley below, axe in hand. "UGHHHHHHH!!!!" roared the Dwarf prince, the crowd in an tumult. Marigol stormed into the mountains, but was never seen again... eons passed, and the Axe all but vanished from written history...'
Timeless Pendant
Amulet
+4 Intelligence

+4 Wisdom

"A pendant that glows with a strange light."
Ing's Bauble
Amulet
+200% Extra Gold from Monsters
"'...and this way we'll have enough money to finance an entire LEGION of mercenaries! Don't ya get it, Urist?' 'Sure I do Ing! After all, when I'm not disemboweling my enemies, I spend time memorizing tax laws and the definitions of convoluted financial terms, just for the slim chance I could leverage them for my own personal gain! And at detriment to society as a whole!' The halfling paused (perhaps taking a moment to ignore Urist's criticism), then exhaled loudly. '...again, if we could just acquire one bank from the Elves, my brokerage firm can borrow from other Elvish banks at Eibor rates! That's two percent of a million shekels worth of bonds' interest straight into my pockets!' 'That sounds ethical.' 'Ssshhhh... you let me do the thinkin', and I'll let you do the talkin'. With your axe.' Ing caught a glimpse of incredulity through Urist's immense facial hair. '...trust me, you'll have your father's throne back in no time!'"
Wirt's Other Leg

Mace

+300% Damage

+4 Strength

-3 Wisdom

+20% Attack Speed

Of course you saw this and immediately thought 'WEAPON!', you psychopath.
Little Bow Peep
Bow

+300% Durability

+15% Life Steal

...has lost her sheep, and now she intends to kill them.
The Gospel of Wealth
Book

+8 to Intelligence

+8 to Wisdom

"Let's see here... Carnegie 3:16: 'No man can become rich without himself enriching others.' Hmm... Rockefeller 7:12: 'I WILL CRUSH THEM AAALLLLL WITH MY OOIIILLL!!!! MUAHAHAHAH, AAAAHAHAH...' It goes on like this for seven pages!'"
Rusty Coathanger
Sword
Adds 8-13 Unholy Damage

"The most versatile of weapons..."

The Alternative Minimum Axe
Axe

+10% life stolen per hit

+10% mana stolen per hit

"Congress has allowed a credit to the Owner's Dexterity, the amount of which is the lesser of twice the Owner's Strength minus the Owner's prior Dexterity and the natural logarithm of two, excepting the case of Halflings and Nagas, who are considered protected groups under ICS 3.234.1 and thus ineligeble for the Dexterity credit. Refer to the table located at appendix V784  (located on the opposing side of this hatchet) for precalculated Dexterity rates. Additionally, possessors of both this hatchet and non-private real property are allowed a 33582.8% credit to health.\, provided they filed for no greater than fifteen dependents on their last annual tax return (in accordancy of the dependency rules laid out in ICS 2.43), none of which claimed themselves as being Endermen, incontinent, or being young professionals who are not owners of non-private real real estate dating before 1963.
Pikachu-Skin Mantle

Chestplate

+10% run/walk speed

"Disclaimer: No Pikachus were eviscerated in the making of this mantle. And certainly not thousands of them.

Bastion
Chestplate

+400% Defense

+5% Life stolen per hit

+5% Mana stolen per hit

+75% attack speed

-80% run/walk speed

"'There's to many of 'em, Urist!' 'How many archers, Ing?' 'None, but there's ten-thous--' 'Perfect don't wait up on me'"
Multi-Stat Enhancement
Edit
Some properties add a certain amount of points to all five stats, but are treated as a single property. For example at max tier, this would mean +8 to all, as compared to +12 in a single category. This results in the highest possible tier at legendary level defensive items often having +20 to three stats and +8 to the other two, as one of the four stats is one of these omni-buffs. At the end-game, your goal is to probably find these items with 2 +20 to Fortitude and Wisdom and the other +20 to your main damage stat, whether it be Intelligence or Dexterity. Of course, if you have resistances or a percentage increase for defense added onto these "legendary omni-gear", even better, but these should not have priority over stronger stats on items.
Note that the above mentioned spread for the +20 stats for the "legendary omni-gear" is just a general outline that works well for all builds. For more specific spreads, check out the separate pages set out for each class.
Weapon bonuses
Edit
Put the prefixes and suffixes that you find on this page.