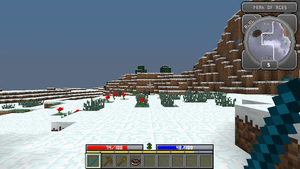 Wands are an item new with Hack/Mine that deal damage based on your Intelligence. At the moment, there are six different projectiles that can be cast via wands:
Firebolt (Fire)
Icebolt (Ice)
Noxious Fumes (poison)
Ball Lightning (Lightning)
Holybolt (Holy)
Cursed Bolt (Unholy)
Note: Every mob is resistant to Noxious Fumes(The spell itself will do nothing), but not the poison it provides.
Earth is the only element not present, because someone needs to make Frizzil an Earth projectile animation.